A tailor-made tool
---
Zenitoo was developed in collaboration with two yoga studios.
We will continue to listen to our customers and their needs in order to further improve this management software for you.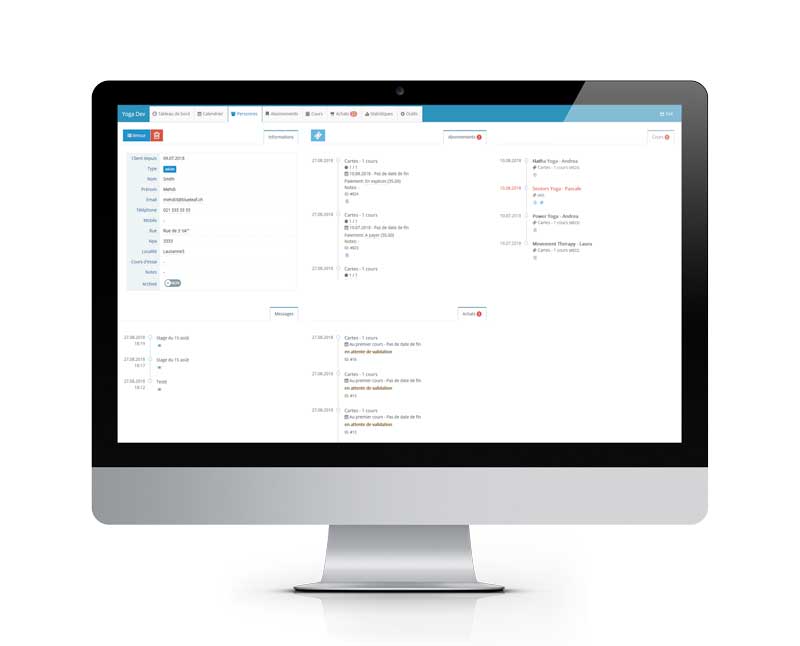 Testimonials
---



Sylvain Lonchay

My experience with Zenitoo is unparalleled. The proposed solutions and the technical competence are the strong points. Switching to a new reservation system is a risk for an entrepreneur but the support was effective and reassuring. The test phase is real, we didn't feel left in the wild from the start. I highly recommend it and I am really satisfied with the transition after two months. The corrections made to make the system more personalised are just what we needed instead of working with large foreign companies that do not understand our specific needs and do not provide any flexibility.



Létitia

I have been looking for a program to manage students and subscriptions for a long time. The Zenitoo program allows us to manage our students and subscriptions very easily and with a huge saving of time. The main contact person is always available and always finds the best solutions for our own needs. I can only recommend Zenitoo! You will not be disappointed!



Andrea R.

For a year now I have been looking for a management software for my yoga classes, not an easy task as it is often too complex or too expensive. Luckily I came across an advertisement for Blueleaf and I was immediately welcomed by Mehdi. After a meeting and a presentation of his software I knew I had found the right address! Mehdi provides me with a 5 star service, very available, listening to all my wishes and needs, very fast and efficient in the execution of tasks, deadlines are respected and the icing on the cake, all this at an affordable price. Blueleaf has improved and adapted their software to my needs. For the past two months I have had a super easy to use tool, my clients are happy to have an overview of their subscriptions and courses attended. The management of courses and subscriptions is a breeze and I have more time to devote to my courses and my clients. I recommend them with my eyes closed.



Andrea F.

The subscription management system tailored to our company is easy to use, fast and efficient. We are delighted to have a tool that meets exactly what we need. Our contact person Mr. El Ghaziani is attentive and available, it is a pleasure to work with him. Bravo and thank you!
The features
---
Dashboard
Consultation of your course fill and enrolment management.
People
Manage your attendees, their subscriptions and their history. Easily import your current list.
Subscriptions
Define your subscription range according to your needs.
Courses
Create courses and internships by defining their recurrence, capacity and schedules.
Participant Access
Public access is available to your participants so that they can manage their subscriptions and registrations.
Online courses
Management of enrolments for online courses via Zoom or other software.
Easy integration
We integrate the booking system into your website.
Website
Create your website and manage everything in one tool*.
*additional fees may apply
Invoicing and purchasing
Manage your invoicing and subscription purchases for your participants.
Messaging
Integrated messaging system to communicate more easily with your students.
Reminders
Ability to send automatic reminders to your students before a class, so they don't forget their registration anymore.
Waiting list
If the maximum capacity of one of your courses is reached, the student can move to a queue.
Check-in
Check-in page for validation of student attendance.
Statistics
Lots of statistics available to help you optimise your business.
Adjustable
The flexibility of Zenitoo allows us to adjust it for each client to meet your needs.
---
Need a particular feature?
Contact us to discuss its implementation!
Demo platform
---
Ask us for access to the demo platform to discover your future platform.
Contact us!
Subscriptions
---
Choose the subscription package that suits you best:
Contact us!
*: prices are exclusive of tax (vat) and subscriptions must be paid before the start of the relevant period.
Contact us
.
---
Do not hesitate to contact us to start using Zenitoo or for any further information.
Where to find us?
Zenitoo - Blueleaf Sàrl
Rue du Valentin 12
1004 Lausanne
Suisse